I'm going to take a brake from my usual blog featuring our work + beauty tips and tricks, to tell you about a glorious wedding or honeymoon destination I love to travel to – Enjoy!  
Old Pali Road in Hawaii
After a magical childhood in Hawaii, I grew up to marry a Minnesotan.  I endured the frigid Minnesota winters…well…at first.  Then I reached the conclusion that a "snowbird's life" was the best balance for my love of the ocean, and his love of Minneapolis.  Thus began the winter house hunt!
Yes, people, this is REAL! minneapolis 1/22/2013
I would have loved to have gone back home to Hawaii – Spending everyday surfing = not-to-shabby in my book! Alas, the lure of finding a place that we could ALSO escape a long weekend to, left Hawaii's flight time in the dust.  Ultimately, we decided on beautiful Vilano Beach – just a 4 hour trip from MSP.(driving included)
Vilano Pier on the icw and the Usina Bridge which connects Vilano to St Augustine
March 2012 hibiscus
hibachi dinner on Vilano Beach (Atlantic Ocean). February 2012
common during the summer on Vilano
beach combing for fossilized shark's teeth on a foggy morning
Vilano Beach
is a beach side neighborhood on the north east barrier island off of
St Augustine, Florida.
 Daily treasure hunting for fossilized shark teeth and other sea treasures becomes a right of passage!  It is not unusual to see weddings, surfing, skim-boarding, fishing and horseback riding on the shell covered beach.
St. Augustine, Fl, Vilano Beach to the left, Anastasia island to the right

circa 1586 Spanish map of Vilano / St Augustine
While watching the St. Augustine shrimp boats return from sea, you are sure to spot dolphins returning as well!  The relaxing beach life is complemented by fun trips into our nation's oldest city: St. Augustine.  A scenic 2 miles away, "St. A" provides a rich history, fun shops and restaurants, horse drawn carriages on cobblestone streets + much more!
spanish moss draped Magnolia Drive – near the fountain of youth
Clearly, I love it, and I'm sure you will too!  I'm getting a late start on my southern migration this year – heading down in the middle of February.  I swear I've been dreaming of tropical plants every night! I should note that Vilano/St. Augustine is in NE Florida and we do have mild seasons – January lends itself easily to "sweater weather" and the winter nights are wonderful for enjoying some vino by the fire.  Summer days start of with sun and warmth, followed by (a daily) afternoon thunderstorm, which wraps up with a cool breeze at night – Love it!
Side note – We give discounts on our beauty services if you stay at one of our St Augustine Airbnbs!
If you prefer the beach, stay at our 2 bedroom, 1 bath Surf Shack Vilano 
If you prefer walking distance to down town St. Augustine, bed at our adorable Blue Anchor Cottage (2/1) in historic Lincolnville.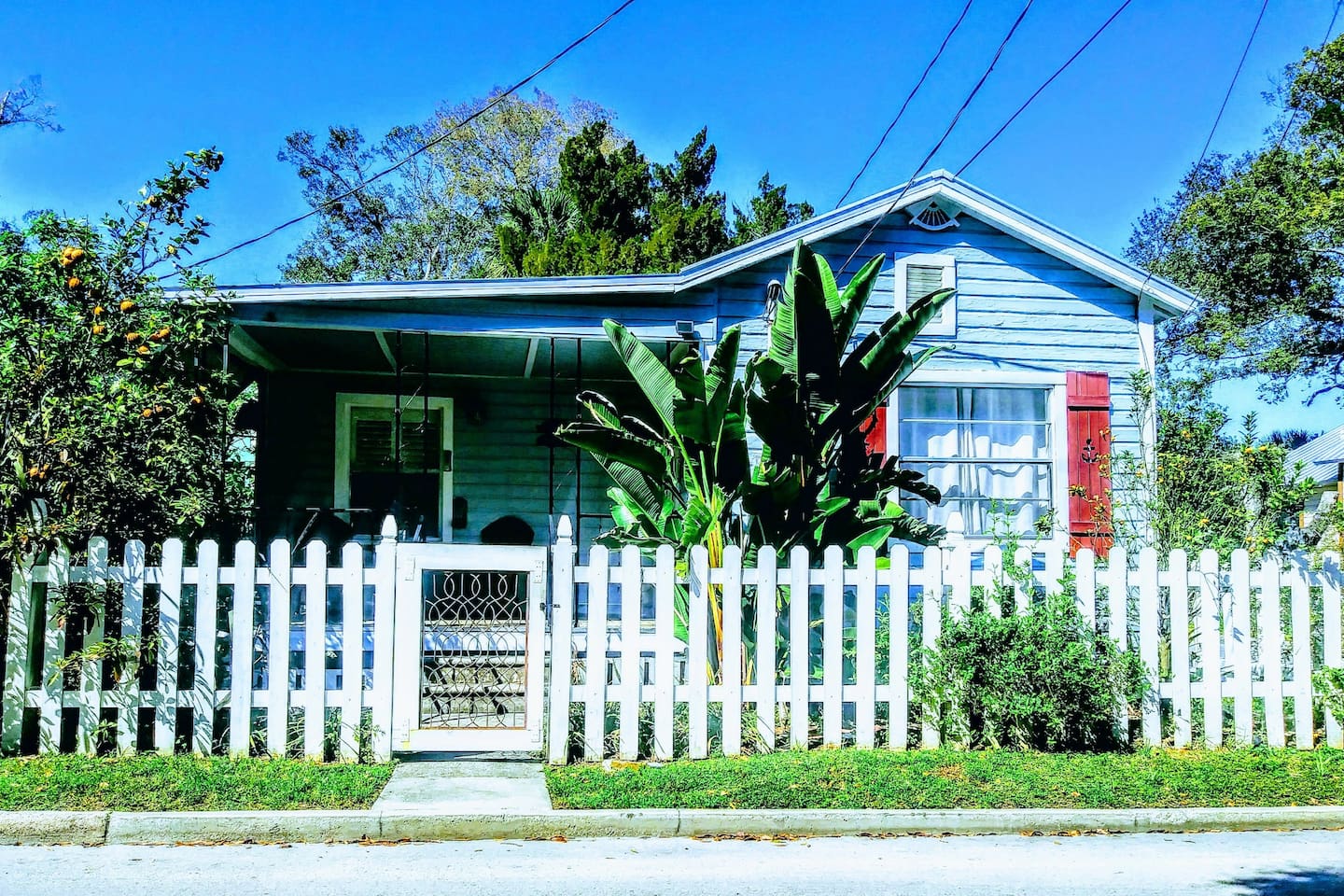 There you have it – Tidbits about a great wedding destination, by a St. Augustine / Vilano Beach onsite-wedding hair and makeup artist! okay, okay, now back to beauty blogging 😉
ciao bellas! xoxoxo
Kira McCarty
Onsite Muse HMUA
key words: St Augustine wedding hairstylist, St Augustine airbrush makeup artist,  St. Augustine wedding , St. Augustine elope, St. Augustine bridal hairstylist, St Augustine bridal makeup artist, honeymoon St Augustine, Bachelorette St Augustine, Wedding lodging St Augustine.
Tidbits from a Snowbird Hair / Makep Artist: Vilano Beach and St. Augustine Florida – The Destination Wedding Spot